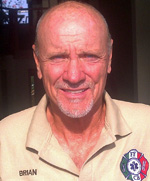 Brian Singleton - Regional Representative
Brian retired from Vancouver Fire & Rescue as Assistant Chief after 30 years of service. He continued teaching at the BC Fire Academy and with Global Emergency Managment, a US consulting group based in Idaho who provides firefighter training across the State of Idaho.
Brian moved full time to Nuevo Vallarta, Mexico in 2004 and began efforts to assist Puerto Vallarta and Bahia de Banderas Civil Proteccion y Bomeros. He jioned forces with Firefighters Crossing Borders in 2010 and became a Regional Representative. He works closely with local community partners and manages program development in Nayarit and Jalisco. He is co-director of the International Rotary Fire World Community Service Project and director of the Punta Mita Foundation's Fire EMS project. He is currently Vic President and co-founder of WebFire Training LLC, a California based e-learning company which provides OSHA safety courses to hotel workers world wide.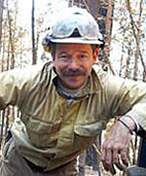 Jordan Pollack - Regional Representative​
Jordan became involved with Firefighters Crossing Borders in 2008 coordinating a 4 day truck company operations program in the capital city of Culiacan, Sinaloa. Firefighters and officers from Culiacan and Mazatlan attended that year, the first of what has now become an annual fire-rescue symposium bringing participants from every department in the state. Through his work with Firefighters Crossing Borders Jordan initiated a major development program in 2010 for the towns of Sayulita and San Pancho, Nayarit. Born in the name of a colleague Zack Chambers who lost his life while swimming in the waters off Saylita, Jordan along with Zacks wife Nya created the Zachary Chambers Foundation. This non-profit group focused on development and support of emergency services for that remote area. During the first major lifeguard mission in 2010 Brian and Jordan met and began working together. Within a short time they created Region 2 of Firefighters Crossing Borders that encompasses the states of Sinaloa, Nayarit, Jalisco, and Colima. Jordan continues to coordinate the annual fire-rescue training symposium in Sinaloa. He serves as fire chief for the Breitenbush Fire Department in central Oregon and owns a fire training-consulting business in the Pacific Northwest.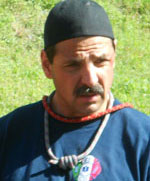 Steve Ness
Steve works as a Captain on a busy ladder truck company for Snohomish County Fire District 1. His off duty days are filled with managing his industrial life safety business with numerous rescue technicians and others working at refineries and other large industrial operations around the USA. For additional entertainment Steve fills a seat on the Board of Commissioners for Whatcom County Fire District 4. Working with Firefighters Crossing Borders brings Steve some welcome time away from his busy administrative world, coming south instructing comrades in Mexico, his other home.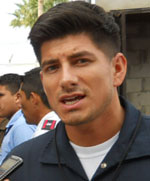 Moi Castellon
A Firefighter/EMT with Snohomish County Fire District 1, Moi works on Ladder 20. A firefighter since 2004, Moi is a certified aerial driver/operator and instructor in vehicle extrication. Born in the State of Jalisco, Mr. Castellon is fluent in Spanish, and enjoys being part of Firefighters Crossing Borders where he has been teaching and helping out his fellow firefighter brothers in Mexico since 2011.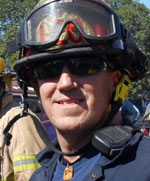 Dave Stevens
Dave started in the fire service in 1997 as a firefighter with Vancouver Fire Department in Southwest Washington State. He now works for Snohomish County Fire District 1 as a driver/operator on Ladder 20. He is a member of the Snohomish County Technical Rescue Team, an instructor in Vehicle Extrication, and works as a Captain when needed. In his time away from the fire department Dave played Rugby for 15 years and now enjoys the occasional game with friends.
Bronco Edwards
Working on Snohomish County Fire District 1 Ladder 20 as a Firefighter/EMT with many years of experience, Bronco brings a wealth of knowledge to the team. His background as a rescue specialist includes vehicle extrication, low and high angle rope rescue, and much more.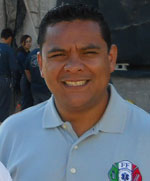 Edgar Ramirez Tellez
Born and raised in Mexico City, Edgar has been in the fire service since 1997 working in California and Wisconsin. Mr. Ramirez works as a paramedic/firefighter for the City of Fond Du Loc, Wisconsin and is a member of the department's training staff. He is certified in swift water/rope/confined space and ice rescue as well as a hazardous materials technician.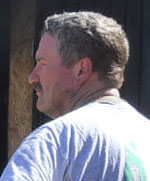 Paul Spencer
A master emergency vehicle technician, Paul began his career in 1983 working on a heavy rescue company outside Washington D.C. He has held positions as rescue and station captain during his 14 year career with San Juan County in Washington State. Paul is well known in the Pacific Northwest for teaching firefighters efficient water flow tactics with high gallon-low manpower equipment, achieving the most from their pumping apparatus. Mr. Spencer is the primary mechanical consult for vehicles, SCBA, and nozzles for Culiacan Fire Department.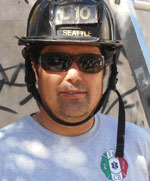 Joaquin Hubbard
A firefighter/EMT with Seattle Fire Department in Washington State, Joaquin works on a busy urban ladder company (Ladder 25) and instructs firefighting regularly in the region. Joaquin has been in the fire service for many years starting on San Juan Island where he still resides, he brings with him much knowledge of aerial and truck company operations.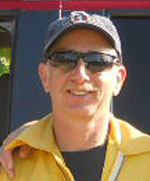 Andy Speier
Andy is the special operations battalion chief for the McLane-Black Lake Fire Department in Olympia, WA, and a member of their special operations rescue team (SORT). He has worked for several departments over the past 32 years and recently retired as a captain with Fire District 1 of Snohomish County, WA. Prior to working in western Washington, Speier worked for the New York City Fire Department (FDNY), assigned to Ladder 4 and Engine 54. He is a voting member of NFPA 1670, a lead instructor for Peak Rescue Institute, and a partner in Spec Rescue International.
Darin Murphy
Darin is a Lieutenant for the Tacoma Fire Department and has participated in planning and delivering a variety of fire service related training, including Recruit and Probationary firefighter training, and Technical Rescue training in Rope, Confined Space and Trench Rescue. Darin teaches Fire and Emergency Service Instructor classes for the Washington State Fire Marshalls Office. He has family living in Puerto Vallarta and plans to spend more time in Mexico.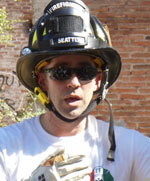 Tim Frank
Tim is a 15 year veteran the Seattle Fire Department. He is a company officer on Ladder 10, a downtown Ladder Truck stationed in the Capitol Hill neighborhood of Seattle. He has been a company officer for 5 years, two of which were spent assigned to the Training Division where he trained recruit firefighters. He is also a member of the Washington State FEMA Urban Search and Rescue Task Force (WATF-1) where he serves as a Search Manager.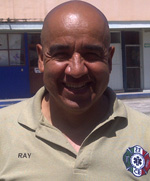 Ray Garcia
Ray is a Captain with the Phoenix Fire Department with over 26 years of service and FFCB's liaison with the Phoenix fire department. He's a member of the Phoenix Fire Department AZTF-1 Response Team. He is Paramedic and Pediatric Advanced Life Support certified as well as an American Heart Association instructor. Ray is fluent in Spanish and an EMT instructor at Estrella Community College in Avondale Arizona.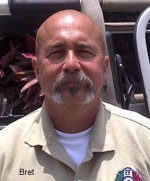 Bret Russell
Bret has 35 years of fire service and law enforcement experience with the Orange County CA Fire Authority. Bret has held the positions of Firefighter, Paramedic, Fire Captain, Assistant Fire Training Officer, Helicopter Crew Chief, State Safety Officer and Fire/Arson Investigator. In addition, Bret was also a member of the California Urban Search and Rescue Task Force 5 FEMA, U.S. Department of Homeland Security, for 23 years, assigned as a Safety Officer / Medical Specialist and Rescue Specialist. Bret is currently the Director of the Emergency Management Program for the Capistrano-Laguna School District, South Coast ROP.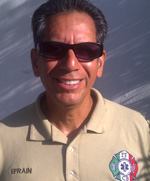 Efrain Guzman
Efrain spent 13 years in the Marine Corps and 22 years with the Phoenix Fire Dept. He is an EMT, Technical Rescue and Hazmat Technician and a member of the Urban Search and Rescue Task Force 1. Efrain enjoys teaching firefighters in Mexico and is an IAFF HazMat first responder instructor and a Texas A&M WMD train the trainer instructor. He's bilingual and a Spanish instructor for the Phoenix Fire Department.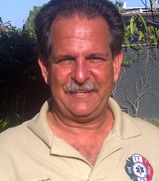 Greg Ryan
Greg has 48 years of fire service experience and retired as fire Fire Chief for the City of Rio Rancho, New Mexico in January 2002. He returned to Southern California, where his current position is Deputy Fire Marshal for the Carlsbad fire department. Greg is certified by CA State Fire Marshal's Office and IFSAC as a Fire Investigator, Firefighter II, Fire Officer, Hazardous Materials Specialist and Chief Officer. Greg is also certified by the CA State Fire Marshal and the International Code Council as a Fire Inspector II/III, Fire Protection Specialist and Plan Reviewer. He is also certified as an Executive Fire Officer through the National Fire Academy and holds a Professional Certificate in Emergency Management through the Federal Emergency Management Agency.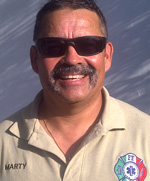 Marty Munoz
Marty has 28 years of service with the Phoenix Fire Department and is a Captain/Paramedic with Special Operations. He was deployed to North Ridge CA in1995, Atlanta Ga. in1996 for the Olympics, New York, City N.Y. in 2001, and Katrina Louisiana in 2006. Marty enjoys working on his Spanish while instructing bomberos.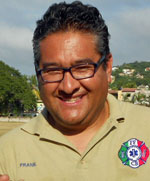 Frank Salomon
Frank is a Deputy Chief with the Phoenix Fire Department with many years of service. He has assisted with Hazmat and Firefighting Ops courses. Frank speaks Spanish.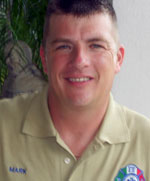 Mark Nielsen
Mark is a Captain with the Surrey Fire Department in British Columbia and member ERT team. He has assisted with Rope Rescue courses in the Bahia de Banderas area.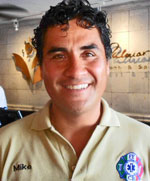 Mike Zepada
Mike is an active member of the Phoenix Fire Department Special Operations and Phoenix's FIMA team. He has assisted with High Rise and Rope Rescue courses in theahia – Vallarta area. He speaks fluent Spanish.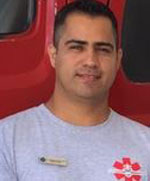 Dr. Luis Lóoez
Dr. Luis is the director of Puerto Vallarta based AirEvac International. They operate a fleet of private ambulances and medical clinks in the Vallarta area. Dr. Luis and his team of US training Paramedics support EMS training to the areas firefighters. Luis speaks English and Spanish.
Fred Demas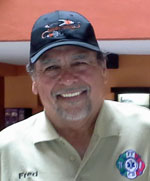 Fred is a retired Truck Captain from Phoenix Fire with 38 years of service. He is currently the Holmatro Rescue Tools dealer for AZ and owner of Extrication Concepts in Phoenix. Fred speaks fluent Spanish.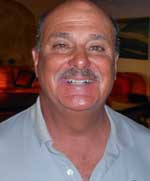 Jimmy Canale
Jimmy is a retired San Diego lifeguard and director of Surf Lifesaving de Sur who has training hundreds of lifeguards throughout Mexico. Jimmy has assisted many times with lifeguard training in the Bahia de Banderas area. Jimmy was named "Citizen of the Year" in 2011 by the San Diego Fire Rescue Dept. for his ongoing dedication to the training and implementation of Lifeguards and Lifeguard Services in Baja and mainland Mexico.
Laine Pepper
Laine is a retired San Diego Lifeguard and director of Surf Lifesaving de Sur who has training many lifeguard in Mexico. He is trained as an Emergency Medical Technician (EMT), a Cliff Rescue Technician, and a Swift Water Rescue Technician. In addition, his training includes SCUBA Underwater Search and Rescue and Coast Guard Helicopter Rescue Operations.
Laine has delivered many lifeguard training courses in Bahia de Banderas.
Adam Finer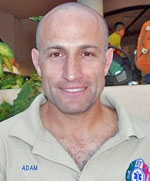 Adam lives in Bucerias, Nayarit and is the owner of Surf Mexico. He is a certified International Lifeguard instructor and the auxiliary lifeguard coordinator for Bucerias. Adam has assist with many lifeguard courses in the area.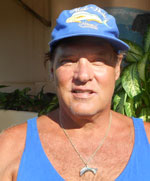 Paul Johnson
Paul retired from the San Diego Fire Department after many years of service. He worked on the fire company and as a lifeguard. Paul spends time in Puerto Vallarta each year and has assisted with a number of training programs in the area